Banquets at Mary Yoders Amish Kitchen
Banquets hosted by the friendly, professional staff at Mary Yoder's Amish Kitchen are truly an enjoyable and delicious experience!
Your event planners choose from a six course Amish Wedding Feast, a five course Plated Dinner, or a menu customized to your exact needs.
True to their namesake, Amish Wedding Feasts are all-you-can-eat. Bowls are passed and refilled until every last guest is fully satisfied. But remind your guests to save room for Dessert, your choice of homemade pies or Amish Wedding Cake.
Our Plated Meal Menu is equally delicious and feature single servings selections of many of your Amish favorites and includes dessert and beverage.
Like Desserts, beverage, gratuity and tax are all included in the price for all menu options.
Access to our Banquet Facility is separate from the main restaurant and offers a old fashioned portico where your guests may visit before or after your event.
Call today to start planning your next event!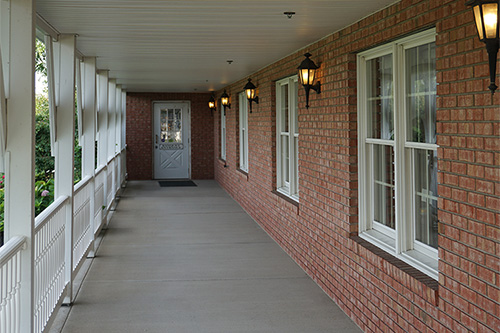 Amish Wedding Feast
Choice of 1, 2, 3, or 4 Meats
Baked Chicken, Roast Beef, Roast Turkey, Roast Pork or Ham
Potato Choice
Baked or Mashed Potatoes
Salad Choice
Tossed Salad or Cole Slaw
Dressing
Our Delicious Dressing
Vegetable Choice
Corn, Green Beans, Carrots or Peas
Dessert Choice
Amish Wedding Cake, Graham Cracker Pudding or Assorted Pies
Beverage Choice
Coffee, Iced Tea or Lemonade
Plated Meal Menu
Choice of 1 or 2 Meats
Baked Chicken, Roast Beef, Roast Turkey, Roast Pork or Ham
Potato Choice
Baked or Mashed Potatoes (one choice per banquet)
Salad Choice
Tossed Salad or Cole Slaw
Vegetable Choice
Corn, Carrots, Green Beans or Peas
Dessert Choice
Amish Wedding Cake, Graham Cracker Pudding or Assorted Pies
Beverage Choice
Coffee, Iced Tea or Lemonade